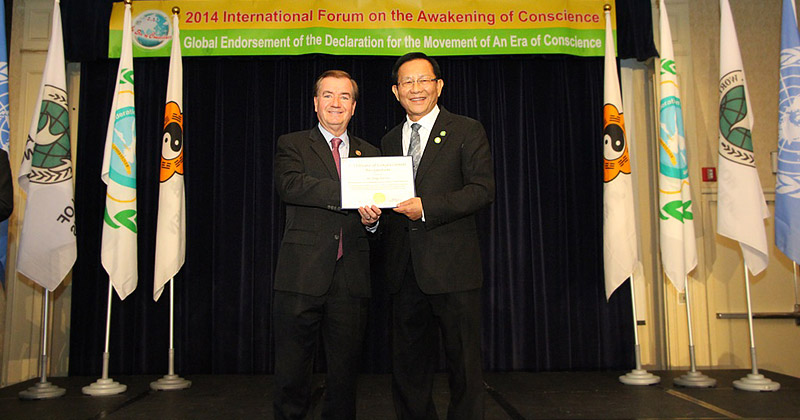 Congressman Ed Royce (left) presents the Certificate of Congressional Recognition to Dr. Hong Tao-Tze, Zhang-men-ren of Tai Ji Men.
  On September 27, 2014, Asian Pacific Islanders American Public Affairs Association (APAPA) held the 7th Annual Asian and Pacific Islander American Leadership Conference in Diamond Bar California.  APAPA has been dedicating their efforts on empowering Asian Pacific Islander Americans in civic and public affairs through education, and leadership development.
  In this event to promote and encourage the involvement of young leaders from Asian Pacific Islanders, Congresswoman, state senator, county superior judge, assemblyman, youth representatives from many schools joined together to celebrate the empowerment of our young future leaders.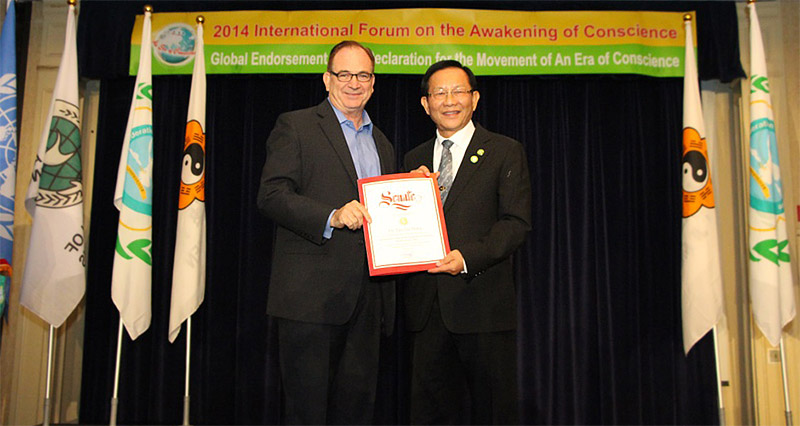 Senator Bob Huff (left) presents the State of California Senate Certificate of Recognition to Dr. Hong Tao-Tze, Zhang-men-ren of Tai Ji Men.
International volunteers of An Era of Conscience (ANEOC) also joined this event. They made a brief introduction about An Era of Conscience movement and presented a song called An Era of Conscience. By inviting people to share good words, do good deeds, they hope to awake the conscience in everyone's heart so that each of us will exercise our conscience in our works, our professions, and our daily life.
A youth representative from ANEOC shared her experience attending the UN DPI/NGO Conference last month. She felt honored to be able to spread her positive energy throughout the event to inspire attendees to have a conscientious heart when dealing with global problems.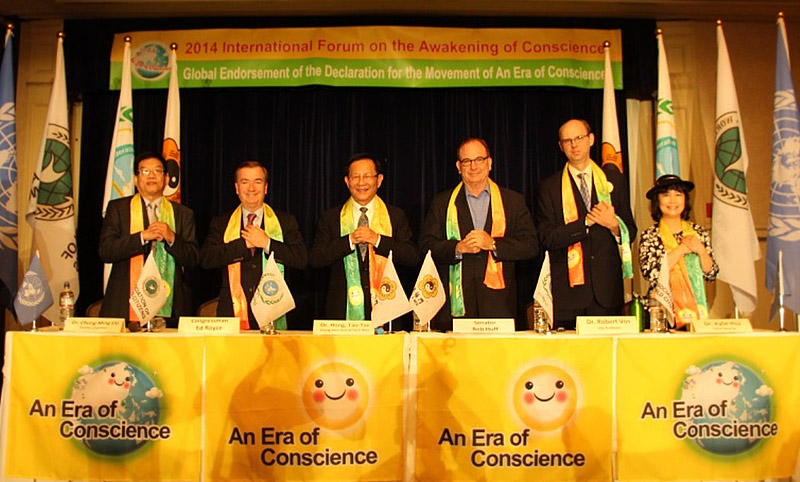 Panelists include Dr. Hong Tao-Tze, initiator of the movement of An Era of Conscience, president of FOWPAL, and Zhang-men-ren of Tai Ji Men (3rd from left); Congressman Ed Royce, Chairman of Foreign Affairs Committee (2nd from left); California State Senator Bob Huff (3rd from right); Adjunct Assistant Professor Robert Vos at USC (2nd from right); Professor Kylie Hsu, director of the Chinese Studies Center of Cal State, LA (1st from right); and Dr. Chung-Ming Liu, Professor Emeritus of atmospheric sciences from National Taiwan University (1st from left).
Congresswoman Judy Chu reflected on An Era of Conscience and commented that she started politics because she wanted to help people; she wanted to follow her conscience of making a positive place for others. One example highlighted by Chu is her effort early in her career to petition against an anti-immigrant movement in the city of Monterey Park which forbade multi-lingual signs. Chu was able to overturn this movement with conscience in action. Chu believes that people can get together, join forces, and apply An Era of Conscience in their work by fighting for the better good of everyone in the community.
State Senator Ted Lieu agrees with the movement and he is applying conscience day to day when he legislates and negotiates at the State Senate. Lu doesn't approach problem from a partisan angle, and believes if there are good ideas to solve issues, it should not matter which party, and one's conscience should be the guide as to what is right and wrong.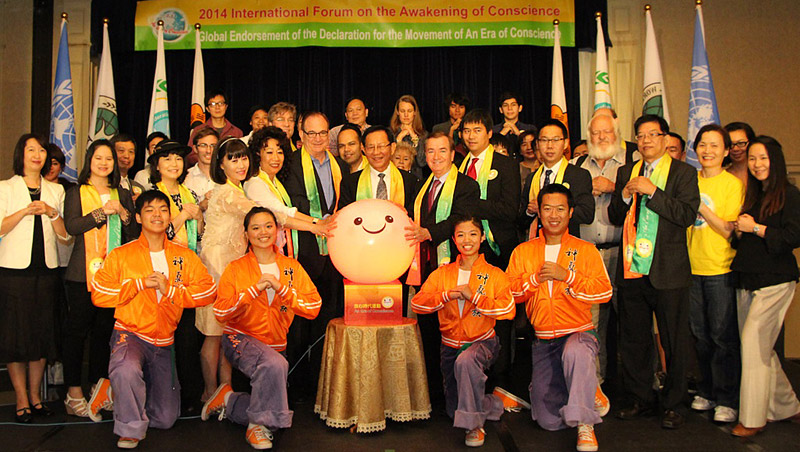 Panelists and honored guests light up the globe with a smiley face, symbolizing that everyone is an angel of conscience that can offer wisdom and conscientious words to improve education.