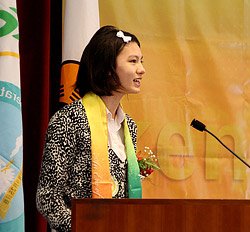 Cassandra Overney, Lynbrook High School Student & International Volunteer for an Era of Conscience Movement talked about Children Health & Education.
      November 20, 2014 marks the 25th anniversary of the United Nations Convention on the Rights of the Child, the most widely ratified international convention of human rights in history.
      In response to UN Universal Children's Day, Tai Ji Men Qigong Academy, Associations of World Citizens (AWC), Federation of World Peace and Love (FOWPAL), and Cupertino City Mayor Gilbert Wong, hosted the sixth international forum on the Awakening of an Era of Conscience. Early in the morning on the 23rd of November, over 200 people gathered at the Cupertino City Hall to listen to the inspiring speeches of teachers, principals, and specialists.
      Dr. Hong, Tao-Tze, the initiator of the movement "An Era of Conscience", President of Federation of World Peace and Love, Zhang-men-ren of Tai Ji Men, at the welcome remarks via video stated "Children today are the leaders of tomorrow. Today's actions reflect upon our children like mirrors. The blueprint that we envision for our future, positive or negative, will become a reality for our children. Thus, we must accept the responsibility to create an appropriate environment for children to grow and to protect the rights of children in different aspects of life such as health, education, culture and safety."
      Mr. Rene Wadlow, President and Representative to the UN, Geneva of the AWC, at his greeting speech mentioned: "AWC since 1989 has been active with governments and other non-governmental organizations in helping to develop an awareness of principles of the Convention and building institutions to protect the best interests of the child." "Cooperation among all sectors of the society is an essential condition for the promotion of the rights of the child."
      At the forum, Dr. Hong, Tao-Tze's representative, Wayne Jar, recited an essay which entitled "Global awakening of conscience for the protection of children's human rights". In his essay pointed out "Freedom and human rights are universal values and a heaven-given gift.  We still have a long way to go in terms of improving healthy living and equal opportunity for children across the globe.  To stay healthy, children need not mere foods but nutritious and safe foods.  To enjoy security and peace, children need not merely be safe, but be physically, mentally, socially, and holistically safe.  To stay cheerful, children need not a mere childhood, but a stress-free childhood where they get to play and exercise joyfully. To live in happiness, children need not a mere education, but a conscience-oriented education that incorporates the elements of morality and cultures. All these depend on our education policies, social systems, and the greater environment formed by families, schools, and societies. The level of conscience of the people in the greater environment determines the quality of our next generation and affects the destiny of the earth and all humanity."

International Forum on the Awakening of Conscience VI – In Response to Universal Children's Day Group Photo.
      Andy Huang, Public Safety Commissioner of Cupertino, spoke about how safety affects the everyday lives of children and how conscience can save many lives.
      John Dwyer, Principal of Lynbrook High School, talked about academic stress and the impacts on students.  Depression is one of the most common mental states in teens. It is associated with substantial impairment in school, relationships and work. Those with depression are more likely to abuse tobacco and other substances. Most schools have worked on their policies to provide solutions to ease students' academic stress including late school days, meaningful and reasonable homework, project and problem-based learning style.
      Psychiatrist Kimberly Bell told the audience that they needed to give their children excessive love for them to grow confidence, connections, and ability to cope.
      Cassandra Overney, Lynbrook High School student, offered insight on how serious world hunger is a huge problem needed to be solved since it directly affects children of all ages. Miss Laura Hull provided the audience with a mindful speech about how we need to prepare ourselves and our kids for change, and to show them that change is not always bad.
      Dr. Eric Lin, Chinese Medicine Practitioner & Engineer, shared very important secrets of how to make physical and mental health from traditional Chinese medicine aspect such as making your body warmer, keeping good balance and consuming solid and liquid, separately.
      Dr. Jennifer Hsieh Optometrist said nearsightedness is a common vision problem affecting children. She taught audience the "20-20-20" rules to prevent nearsightedness prescription, which is every 20 minutes, taking 20 second break and look far away, around 20 feet far.
      Along with these moving vocalizations, the youth choir performed peaceful Love and Peace song to encourage people to work together for love and peach beautiful world. An energetic Celestial Horse Dance and a humorous Power of Love Musical were presented by Tai Ji Men youth members to show how they overcome life challenges with wisdom and courage and spread positive energy to inspire people's heart.
      Besides perspective talks and youth performances, many fun children's folk games and toys booths were located out back including the ring toss, chess, the Rubic's cube, punch-and-win and many others. Crafts from Ninja Stars to Native American headbands symbolized worldwide love and peace. The attendees all left with smiles on their faces. Overall, the entire event was a success. The kids had fun with the games and crafts while adults learned about how to improve the lives of their children. We are one step closer to worldwide love and peace.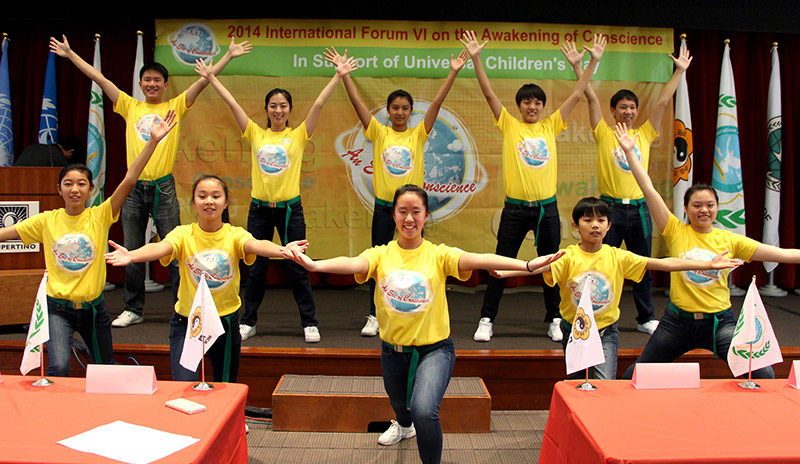 Tai Ji Men youth members performed an energetic Celestial Horse Dance and a humorous Power of Love Musical to spread positive energy.