In celebration of the International Love and Peace Day, the Federation of World Peace and Love (FOWPAL) held an International Love and Peace Day Forum on the Awakening of Conscience in Los Angeles, California on September 14 as part of a series of simultaneously held events around the world. This international forum aimed to consolidate the wisdom of experts from all walks of life as they shared their perspectives on influencing more people to do good things. The panel consisted of 13 experts and representatives from different fields, including environment, agriculture, technology, manufacturing, academics, NGOs and students, who shared thoughts on how they do their jobs with conscience and how they promote the movement of An Era of Conscience.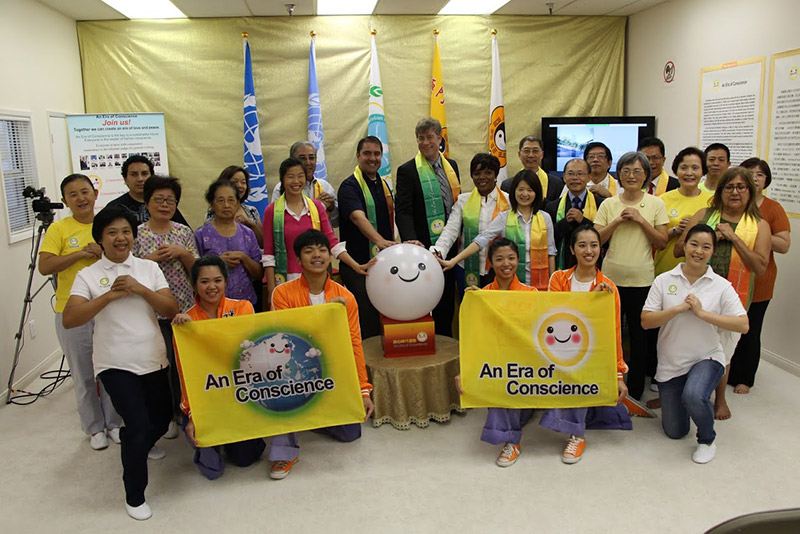 Experts Gather in Los Angeles to Share Perspectives on Conscience
      In the light of the increasingly frequent natural and man-made calamities, An Era of Conscience movement calls for all world citizens to take immediate action to save the continued existence of mankind. "Our living environment is cracking due to man-made destructions. We are perched on the edge of a dangerous cliff; conscience is the only way to salvation. Having clear consciences and adapting pragmatic methods for improving ourselves, the positive forces will purify our living environment and resolve the unseen looming tragedy," Dr. Hong, Tao-Tze, President of Federation of World Peace and Love (FOWPAL) said in his speech. Dr. Hong is the initiator of the global endorsement of the Declaration for the Movement of An Era of Conscience which was launched on August 17 in San Jose, California. In the forum, a ceremony of promoting the global endorsement of the declaration was held and the smiling glob was turned activated, symbolizing people will smile when the conscience in everyone's heart is raised.
      Dr. Chung-Ming Liu, Chairman of the Chinese Association of Low Carbon Environment and professor of National Taiwan University Atmospheric Science stated that California has a severe drought for years and the residents know that, but statistics show that the water consumption has increased 1% this year. Therefore, he encouraged people to start from ourselves, saving water and to protect our environment.
      Daniel Lesho, Director of Cal Poly Pomona English Language Institute, agreed with the notion Dr. Hongproposed, that everyone is the hero or heroine of his or her own conscience. He echoed Dr. Hong's notion and shared what he and his students experienced when exposed to a different culture. When a person goes through a "transformative experience," the hero or heroine comes out from their heart. He/she will learn how to see the other aspect of things and respect other people. Helping international students get through the experiences is one way to achieve the goal of An Era of Conscience.
    "I wish this message will go all around the world, to world leaders to world politicians, everyone. We all need An Era of Conscience," said Vera Daniel, National Project Coordinator of Youth for Transparent International. She added that it is especially important for politicians as with conscience, political leaders can rule better. As an international volunteer of ANEOC, Daniel is promoting the movement in Nigeria. 
      On the 60th Anniversary of the United Nations in 2005, witnessed by the President of Dominican Republic, UN ambassadors and NGO leaders, Dr. Hong declared September 15, the International Love and Peace Day and also turned the "key to the world" together with H.E. President Leonel Fernandez Reyna of Dominican Republic.
      The International Love and Peace Day Forum on the Awakening of Conscience concluded with the participants joining in the Era of Conscience solute and pledging to invite friends, family and associates to find out more about the movement of An Era of Conscience at the website aneoc.org and to join the movement.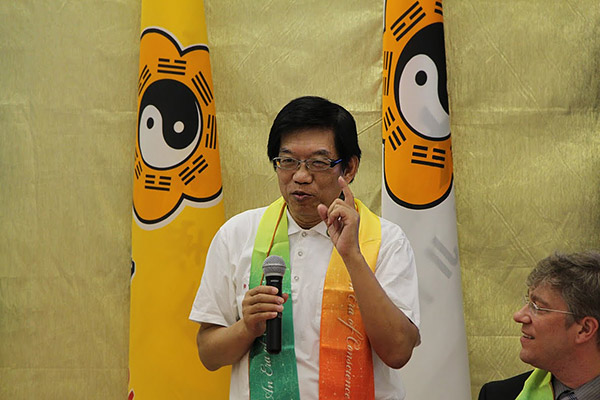 Dr. Chung-Ming Liu, professor of National Taiwan University Atmospheric Science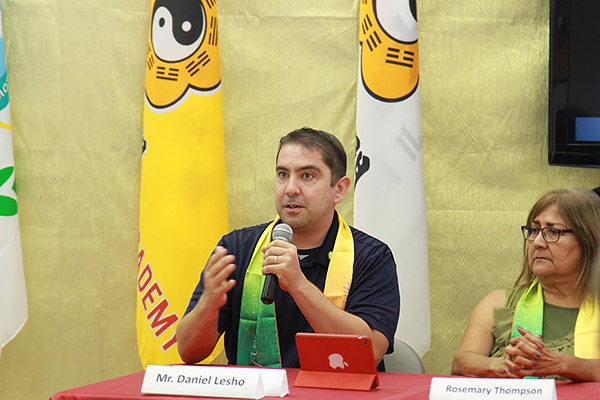 Daniel Lesho, Director of Cal Poly Pomona English Language Institute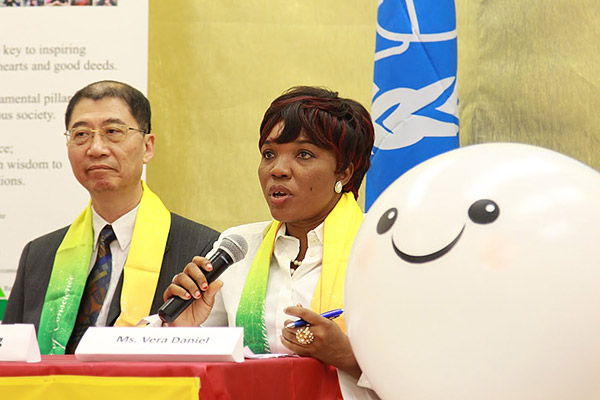 Vera Daniel, National Project Coordinator of Youth for Transparent International